Joint - Gold Sponsor

ALTEK Ltd, UK
ALTEK is a technology-based company with specialist expertise and experience in the design, manufacture and installation of equipment and systems for the aluminium cast house. Their innovative technologies focus on environmentally friendly, profitable solutions for the Aluminium Industry. Their engineers have a wealth of international experience in developing and refining solutions to dross and scrap recycling and are a unique process-based skill resource for our worldwide customers.
ALTEK aim to provide the best technology and knowledge, to meet customer needs through a deep understanding of their production processes, operation, equipment and operational cost and profitability requirements.
ALTEK embarked on an ambitious project in 2010, culminating to what is now the most efficient, on-site salt slag recovery plant technology available in the industry. AluSalt™ is ALTEK's economically viable solution to the global issue of salt slag (salt cake) processing and can be set up locally within a company's curtilage. The benefits this can provide, operationally and financially, are significant and is a welcomed addition to the aluminium industry.
For more information please visit the ALTEK Website
Special Note
ALTEK will held a special Seminar after closing of NorCast conference on Wednesday, June 5 afternoon and will host a dinner at Captains Private Club for the participants the same evening.

The Seminar will cover ALTEK's ne development including; Agitator (maximum recovery), Onspec for online analysis, Product XX (new technology for liquid metal analysis), SmartRec (energy recovery), New Magnetic Technologies & Applications and feedback on ALTEK's latest operational results.



Joint - Gold Sponsor

Hertwich Engineering GmbH, Austria
Hertwich Engineering, a company of the SMS group, is active worldwide with the design, supply, construction and commissioning of speciality machinery and equipment for the Aluminium industry, in particular for Aluminium casthouses.
The product range comprises the following technically advanced equipment:
Melting Furnaces
Casting Equipment
Homogenizing and Sawing Plants
Ultrasonic Inspection Stations
With Continuous Homogenizing Plants for extrusion billet Hertwich maintains its worldwide lead since many years (90% market share). With advanced melting technology Hertwich has in recent years revolutionized the industry. Hertwich Engineering is competent for supplying complete Al-casthouses on a turnkey basis.
For more information please visit the Hertwich Engineering GmbH Website
---
Silver Sponsor

HOESCH Metallurgie GmbH, Germany
HOESCH is the leading partner for the aluminum cast house industry worldwide; providing solutions for alloying and melt treatment as well as metallurgical consulting of highest quality. With its great variety of products and services HOESCH is your partner for tailor made solutions including:
Master Alloys and Grain Refiners
High concentrated Alloying Additives
Melt Treatment Fluxes
Metals & Metal Powders
Refractory Materials
Metallurgical Servies incl. metallographic analysis & reporting
Due to HOESCH-own production facilities, representative offices and partners all over the world, operating as a reliable partner in the aluminium industry on five continents, the HOESCH footprint stands for appropriate solutions, customers satisfaction, quality leadership, flexibility and innovation.
For more information please visit the HOESCH Metallurgie GmbH Website
Silver Sponsor

ALUMETAL S.A, Poland
Alumetal Group is one of the largest, most modern and dynamically developing manufacturer of aluminium casting alloys, grain refiners and aluminium based master alloys in Europe. The company is proud of its almost 70-year experience in the aluminium business. Alumetal Group consists of 4 production plants: 3 in Poland and 1 in Hungary. The current production capacity amounts to 250,000 mt per annum, since 2021 capacity will reach 270,000 mt/year. Master alloys' capacity itself amounts to 20,000 mt per annum with a complete range of products including hardeners, modifiers and grain refiners. Alumetal is present with its products all over the world and meets the requirements of the most demanding customers from various industries including automotive, construction, machining, electronics, white goods etc.
Alumetal provides its customers with high quality products by using an innovative and modern equipped laboratory that includes OES spectrometer, XRF – quantimeter, scanning microscope, and fully supervised test TP-1. Additionally our products are supported by state-of-the art production equipment and technology with full compliance to the strict environmental regulations and under sophisticated IATF quality standards.
Alumetal looks into the future, runs the business with the big respect for the environment considering sustainable development at the same time.
For more information please visit the Alumetal Website
Silver Sponsor

MQP Ltd, UK
MQP, formed in the year 2000, is based in the UK and operates on a global basis through a network of consultants and distributors.
The Company's thinking from the beginning has been to develop and introduce innovative technology for casthouses with the overall aim of improving quality and reducing operating costs. Close partnerships with suppliers and key customers have been fundamental to the successful achievement of this objective.
Today MQP is entirely focused on the field of grain refinement of aluminium and its alloys.
MQP Optifine is an exceptionally powerful grain refiner bringing consistent performance, improved quality, and economic benefits, to a growing number of aluminium casthouses worldwide. Optifine achieves the level of refinement needed to avoid ingot cracking at up to 80% lower addition rates than standard, commercial TiBAl grain refiners. This results in improved quality and reduced operating costs over a wide range of aluminium alloy compositions. It also means that the risk of unwanted TiB2 and oxide inclusions in the finished products is very much minimised.
The Opticast System is a unique technology and methodology for the in-line control and optimisation of grain refinement.
Optifine & Opticast, working together, are reducing costs and advancing metal quality in casthouses around the world and are regarded as a huge asset.
Other well established products being supplied to casthouses by MQP for several years are now available from an associated Company, Aluminium Casthouse Technology, ACT. These products include:
Refinal – a established range of, environmentally friendly, fused fluxes based on MgCl2 for the efficient and economical removal of alkali metals and oxides from molten aluminium.
Batchpilot - industry proven, innovative, automated, furnace weighing system for the casthouse. It brings an overall increase in casthouse productivity by increasing the percentage of "right first time" batching and eliminating short casts
For more information please visit the MQP Ltd Website
---
Bronze Sponsor

Wagstaff Inc, USA
Custom DC Casting Systems from Wagstaff
Wagstaff Inc. is a 73-year-old industrial manufacturing company that provides customized, advanced aluminium direct-chill solidification technology to rolling ingot and extrusion billet producers worldwide.
Wagstaff offers:
Casting machines
Mold tables
Process automation
Rolling ingot tooling
Extrusion billet tooling
Strong alloy capabilities
Molten metal level control
Worldwide service and support
Wagstaff has delivered more than 1,200 billet systems, 400 ingot casting systems, 250 ShurCast™ Casting Machines and 350 AutoCast™ Automated Casting Control Systems in 58 countries.
Beyond the hardware delivery, first-class customer service is included with every purchase of genuine Wagstaff casting equipment. From on-site start up and refresher training, to workshops held in convenient locations around the world, we are committed to delivering to the right tools at the right time.
For more information please visit the Wagstaff Inc. Website
Bronze Sponsor

Drache Umwelttechnik GmbH, Germany
Since its founding in 1984, Drache offers a wide range of innovative products and equipment for cast houses around the globe.
Drache's product range includes:
The genuine Cerapor Al3O3 ceramic foam filters
Cerapor Al2O3 HF filter, allowing higher flow rates than standard filters
Precast refractory shapes, like filter box liners, launder segments, degassing liner, crucibles etc., from the genuine Drache Fused Silica
Spouts and control pins for rolling slab casting, made from the genuine Fused Silica Fine
DBN – Drache Boron Nitride coating
Fully engineered filter boxes including highly efficient preheating systems for DC casting and continues casting
Fully engineered launder systems, including launder lids and launder preheating
Ceramold Clean, a refractory mastic free from RCF
All Drache products are "Made in Germany".
The production capacities at Drache's sites in Diez, Germany, have increased continuously since the company was founded. As a global company with subsidiaries in North Carolina, USA and Sharjah, UAE, Drache satisfies customers in more than 50 countries world-wide.
Drache's focus is providing reliable, sustainable solutions in line with the customers' requirements as well as long-term partnerships in order to meet all criteria needed for quality that is made by Drache.
For more information please visit the Drache GmbH Website
Bronze Sponsor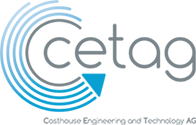 CETAG – Casthouse Engineering and Technology AG, Switzerland
CETAG - Casthouse Engineering and Technology AG of Switzerland is a well established supplier of casthouse process know-how and equipment servicing the worldwide aluminum industry. Our employees gained their in-depth knowledge over decades of being members of the aluminum industry community and offering their services to global customers to improve their processes and equipment. Our focus is not only on a single activity or piece of equipment but on the evaluation and improvement of complex cast house operations.
Casthouse Engineering and Consulting
CETAG provides studies, equipment evaluation reports and services to optimize existing production processes or plants. Examples of our services include preparing a feasibility study for a new casthouse or identifying measures for optimizing operations (e.g. to increase energy efficiency of a melting furnace, dross handling and processing, ...).
Equipment Supply
CETAG supplies various types of melting, holding furnaces and associated equipment. These furnaces are optimized for operator friendly operation, ease of maintenance, low metal losses and to minimize energy consumption.
CETAG is a supplier of the well-established dross cooling technology. This allows for cooling of dross to temperatures around 100ºC within 15 minutes. This quick and gentle process assures that a large portion of the "free" aluminum contained within the dross will be saved from oxidation and available for further recovery. Simultaneously the dross is reduced to a granulate and can be classified into aluminum granulate and fines, allowing for easy handling during further processing.
CETAG offers more than dross cooling technology. Part of our evaluation process involves examining existing equipment and preparing recommendations on how production processes and equipment can be improved to minimize metal loss and the amount of dross created during the melting process.
For more information please visit the CETAG AG Website
Bronze Sponsor

Pyrotek Scandinavia AB, Sweden
Integrated systems and consumables, from the smelter to the foundry.
Pyrotek is a global engineering leader and innovator of performance-improving technical solutions, integrated systems design, and consulting services for customers in the aluminium industry. Pyrotek supports the highest quality aluminium production while reducing overall operating costs and maximizing aluminium producers' profitability.
What Pyrotek offers:
Capital Equipment
Engineered Systems
Engineering and Consulting Services
Consumables
Metallurgical Services
Research and Development
Technical Support
For the Smelter
Pyrotek products can improve plant performance throughout the anode bake furnace to help operators successfully support pot room demand, produce high-quality anodes, minimize fuel consumption, maximize refractory life and maintain a safe work environment.
For the Casthouse
For cleaner metal and more efficient processing, Pyrotek's manufactures engineered systems, equipment, and consumables, from scrap charging to the melting furnace to the casting station. Pyrotek's global network of application engineers and manufacturing plants work with customers to determine the equipment and products that best suit their needs, many of which can be custom designed.
Pyrotek Celebrates 60+ Years of Innovation
When Pyrotek® was founded in 1956 in Spokane, Washington, USA, it manufactured one product: high quality, low cost sewn fibreglass bags for molten aluminium filtration. At the time, the aluminium industry within the USA's Pacific Northwest was robust, with Kaiser Aluminum Corp., Alcoa Inc. and Reynolds Metals Co. plants taking advantage of the region's inexpensive hydroelectric power. Pyrotek soon found it had a niche, expanding its product offerings and strategically opening branches near aluminium plants around the USA.
By the end of the 1960s, Pyrotek had crossed the ocean, entering Australian, Scandinavian, African and other international markets. Today, the company operates more than 80 sales offices, research centres, and manufacturing plants in 35 countries.
For more information please visit the Pyrotek Website
Bronze Sponsor
Hycast AS, Norway
"Game changer within casthouse solutions"
Hycast products are technology and processes for melt treatment and casting of aluminium alloys.
Hycast differentiate themselves from competitors by offering not only separate products, but the whole integrated casting line.
Hycast is a wholly-owned subsidiary by Hydro Aluminium AS, and was started as a spin-off from Hydro's research center at Sunndalsøra. Hycast develop, produce and market casthouse technology for the aluminium industry.
For more information please visit the Hycast AS Website
Bronze Sponsor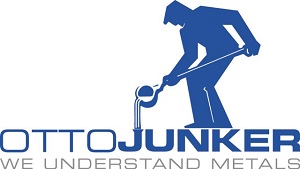 Otto Junker GmbH, Germany
Established in 1924, OTTO JUNKER GmbH draws on more than 90 years of experience and continuous product development. The company is represented by subsidiaries, service agencies and sales offices all over the world.
The product range embraces:
Gas-fired melting and casting furnaces for aluminium casthouses, especially for recycling of (contaminated) aluminium scrap, under the Thermcon brand.
Induction melting and pouring furnaces for different types of metals.
Heating and heat treatment equipment (batch / continuous) for the aluminium and copper industries, especially rolling mills, extrusion plants, casting and forging plants.
In addition we operate our foundry in Lammersdorf producing high-grade sand castings from iron, nickel and cobalt-based materials, both as cast and fully finished. In the attached machining section, precision parts are made for demanding applications.
Since 1982, the company has been owned by the OTTO JUNKER FOUNDATION. Consistent with the Foundation's charter, it promotes the training of young engineers at the RWTH Aachen University and sponsors research and development in the fields of metallurgy and electrical engineering.
For more information please visit the Otto Junker Website
Bronze Sponsor

Precimeter AB, Sweden
The Precimeter Group is continuously growing, developing new solutions and serving customers in the molten metal industry. With more than 25 years of experience within the industry and the highest level of knowledge about molten metal level control - Precimeter is the brand that can be trusted to deliver the solutions you need.
Precimeter specializes in automated level control solutions for molten metal casting processes. All our products are specially designed for the harsh conditions in a cast house environment. We offer our expertise to assist you with system design as well as commissioning.
The Precimeter Group includes offices and production in Sweden (HQ), Germany and USA and a local sales office in China. With representation in more than 35 countries as well, the Precimeter Group offers excellent service and support to its customers worldwide.
For more information please visit the Precimeter Website
Bronze Sponsor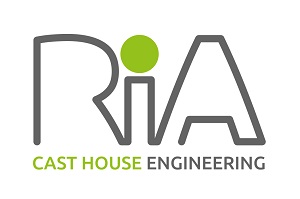 RIA Cast House Engineering GmbH
Innovations in Charging & Skimming
Efficient furnace practices with low cost production standards, start with automated charging and skimming. Using the right technology allows for significant reduction of energy consumption, minimum cycle times, lower furnace maintenance cost as well as a safer environment for the operators. RIA Cast House Engineering has been focusing on the development and manufacturing of charging and skimming equipment since 1997. RIA is now focused on the development of innovative automation and process optimization solutions. Continuing in our development of the safest and most efficient systems possible. The newest RIA charging and skimming systems utilize full artificial intelligence (AI) to make charging and skimming cutting edge technology. The next innovation in the skimming area is the process of In-Furnace Dross Processing (IFDP). The RIA systems achieve the lowest possible operational cost and the safest operating environment for this important part of the process.
Established as a local maintenance service and special equipment supplier for the German Aluminum industry, over more than twenty years RIA became an important International partner for Aluminum billet cast houses. Now with nearly 50 charging and skimming machines supplied to major aluminum companies around the globe. Building on high quality standards and continuously improving those has helped to design the most reliable, robust, maintenance friendly and custom-made furnace tending equipment on the market.
For more information please visit the RIA Cast House Engineering Website